Architect Liability: Choosing Products Carefully
Posted on: August 26, 2015 by Huntersure LLC.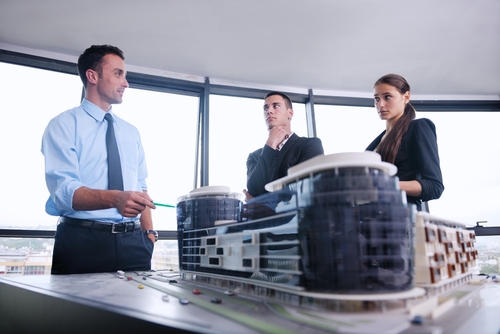 The products that architects employ are vastly important to both the functionality and design of the project. While there are countless noteworthy products, Architect Professional Liability can be reduced with the implementation of well-made merchandise. Architects should ensure the products they use are appropriate for their projects and are built to a high standard to avoid legal claims as a result of that product. The following list includes products that have been top rated from both construction and design representations.
CertainTeed Gyptone BIG Curve Ceiling- The perforated gypsum panels can be molded into arched ceilings in much less time and at a cheaper cost than custom fabrication. Dry-bent, the 6.5 mm thick ceiling can span a 10 foot radius and a 5 foot radius by wet bending. These panels also qualify as a sustainable product as they are constructed out of 85 percent recycled materials and emit low-VOC.
Weco Windows 2C Window- This window combines traditional wood features with the sleekness of glass and is able to be assembled without a frame. The glass is self-supporting and provides maximum light transparency. According to Architect's Newspaper, the wall openings are framed in wood and triple gaskets assure maximum thermal and acoustic performance. Three versions of the window are available to meet a variety of design needs: hinged, slider, and tilt-and-turn.
Duravit P3 Comforts- The sleek yet functional design of these bathroom fixtures are geometrically subtle and aesthetically pleasing. The features allow generous shelf surface and are made out of easily cleanable surfaces. What's more, architects voted this one of the best products as it also features a no slip coating, ideal for bathrooms.
Cree LN Series Lighting- This innovative fixture allows for more uniform illumination of rooms and is incredibly energy efficient at 110 lumens per watt.
At Huntersure, we understand the importance of utilizing the most effective and quality products in order to ensure your project's success and your clients' satisfaction. In addition, we offer comprehensive insurance solutions to protect your clients' investments and assets. To learn more about our operations, contact us today at (855) 585-6255.
Posted in: Architects/ Engineers blog